Selling your car at auction is a quick, exciting way to get rid of your unwanted vehicle. The process of selling your car via auction consists of multiple steps: research, preparation, pricing, promotion, attending the auction, and payment and delivery. In this sales guide, you'll find all the information you need to perform a safe, legal sale, along with extra tips to make the sale even smoother.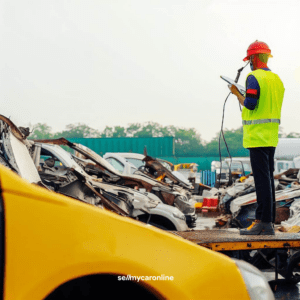 Steps on How to Sell Your Car at Auction
A car auction is a profitable method for selling your vehicle. Physical auctions are relatively fast, simple, and best of all, thrilling! Below is a step-by-step guide to selling your car at auction.
Research
You may be familiar with an auction house already and are intent on using it to sell your vehicle. Though it may seem like the best option, you'll fare better exploring other auction houses and determining which is the best fit. There are two types of auctions: online and in-person. Participating in an online auction introduces your vehicle to interested buyers all over the country. With a large pool of competing bids comes an increased chance of getting the best price for your car, which could be well above market value.
Another benefit of online auctions is the inclusivity. Most in-person auctions are limited to specific people, such as registered car dealers. You may have a harder time finding a local in-person auction than you would finding an online auction that welcomes all sellers.
Choose an auction house with a worthy reputation. Auction houses that barely receive online reviews or that have little or no contact information are a red flag and should be avoided. Once you've found a few dependable auction houses, narrow down one that works for you. The ideal auction house is relatively close or virtual and is able to introduce the right type of buyers to your vehicle. Auction houses that specialize in cars should be given greater consideration, as you will have an increased likelihood of successfully selling your vehicle through one.
Preparation
Prepare your vehicle to be showcased at auction by cleaning the interior and exterior thoroughly. No personal items should remain, including license plates and vehicle registration documents. Document the condition of the car – is it damaged or missing essential parts? In this case, you will either need to fix the damage or sell the car via salvage auction. Salvage auctions are for damaged and inoperable vehicles. Though a salvage title is not required for these auctions, it is more profitable to get one for your inoperable vehicle. Traditional car auctions require the car to be in an operable condition.
You should be prepared to sign over the vehicle title at the time of sale. Those who do not have the original vehicle title are advised to get a duplicate, which can be obtained at a local DMV office or by submitting an online application.
Include the make, model, year, and mileage in the documentation of your vehicle. Provide thorough, high-quality photos of the entire vehicle and a description that fully covers any notable features and upgrades.
Pricing
When setting the starting price for your vehicle, don't be too aggressive. Take the time to look up your vehicle and determine the market price. Compare this to what similar vehicles are sold for via auction. This will help you get an idea of what auction-goers are willing to spend for your vehicle and what a fair price looks like.
Do not lowball yourself by any means. Choosing the right auction house (step 1) will help you avoid a situation where you'd have to accept an unsatisfactory bid. Remember, there are plenty of buyers out there who would like to purchase your vehicle for a great price. Working with an auction house that specializes in cars will ensure you aren't desperately looking for bids in an uninterested crowd.
Promotion
There are plenty of free marketing tactics that will help you sell your car at auction. Social media is a free and helpful tool to do this. Post the pictures and details about your vehicle, along with the setting, date, and time of the auction you are selling the vehicle at. Your friends and followers are potential buyers, and you can also gain more traction by encouraging them to share the post through their page.
There are other promotional tactics you can use if social media isn't your forte, such as classified ads. This option, however, is not free and can cost you up to $100 per line. The most cost effective endeavor is to promote the auction of your vehicle through social media channels.
Attend the Auction
Attending the auction is crucial and will ensure all questions and concerns about your vehicle are properly addressed. It is possible the auction house will require further details and documentation to complete the sale. The process will only be exacerbated if you are not present during the auction. The goal during the auction is to sell your car quickly and for the most cash – relaying details in a timely fashion assures this.
Online auctions do not always require your continued presence. In many cases, the auction can take place over the course of a few days. Online auction houses tend to provide the sellers and bidders with a means of communication so questions can be answered in a timely manner. This is great in the event of a bidding war – you'll be able to quickly respond to bids through the auction house's messaging or chat feature, encouraging engagement and boosting your reputation as a hands-on seller.
Payment and Delivery
Once the auction is held and your vehicle is sold, you should stay in contact with the auction house to complete the next steps. Fill out the necessary paperwork for the sale and finalize payment and delivery methods. You have the option to drive your vehicle to the auction house or set up a meeting place to drop the vehicle off at. The safest option is to either choose an auction house that is willing to organize transportation for your car or to hire an auto transport company yourself. Getting your car shipped or picked up greatly reduces the chance of damaging the vehicle.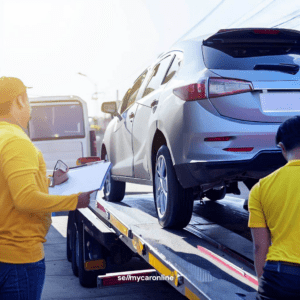 Payment is usually in the form of direct deposit, cash or check. Work with auction houses who are willing to adhere to your preferred payment method.
How do I determine the reserve price for my car?
Determine the reserve price for your car by looking up the market price of your vehicle and comparing it to the price of similar cars sold at auction. From there you can decide on the reserve price by taking into account your location and the demand of your vehicle. The reserve price is the bare minimum you'd like to receive for your car. Do not set the reserve price for your vehicle as the same price you think the vehicle is worth. Chances are the reserve price will be met and you receive a healthy amount of competing bids, driving the final selling price of your vehicle up.
What documents do I need to sell my car at auction?
Sellers must provide proof of ownership to sell a car at auction. Normally the vehicle title and a bill of sale are issued to the auction house before the auction is conducted. You should also have a copy of the vehicle's maintenance history, along with the vehicle owner's manual and any other documentation the auction house asks for.
What happens if my car doesn't sell at auction?
Cars that do not sell at auction may be relisted for future auctions in some cases. Sellers have the option to turn to private sale or vehicle trade-in as well. No matter what, you have multiple channels to sell your vehicle through, especially online. Some auction houses may reach out and request to purchase your vehicle directly from you.
How do I choose the right car auction?
Following each step as listed above will help you choose the right car auction. Researching auction houses is the most important step. Choosing auction houses that are virtual or local can save you money on transportation costs for both your vehicle and yourself. However, if the local markets don't seem appealing for your vehicle, you should consider selling the vehicle in a location where your car is in high demand. Selling your car at auction houses that specializes in cars will also ensure you are connecting with interested buyers who are specifically looking for cars, increasing the odds of a successful sale.