Selling your car online isn't exactly a risky thing to do, but there are always dangers to look out for when selling your car via digital marketplace or in person. Protecting yourself from scams, fraud, and unreliable buyers is the most vital aspect of selling your car online. Without taking the following precautionary steps, you leave yourself vulnerable to things like payment fraud and fake potential buyers. Below, you'll find our 9 step process for selling your car online the safe way.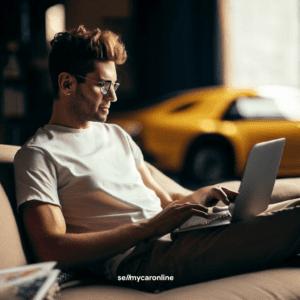 9 Step Process on How to Safely Sell Your Car Online
1. Choose the right platform
Picking the perfect platform is the best way to get your car sold in a timely manner for the best price. There are a handful of free websites for you to advertise your vehicle, along with paid membership options for those who want their listing to have maximum visibility.
Choose the platform that works best for your budget and lifestyle. Those who'd like to sell their vehicle to independent, local buyers should use Craigslist or Facebook Marketplace. The sites allow for cash transactions and a good deal of flexibility. Sellers who would prefer an instant price quote and quick sale should choose a site like CarGurus or Carvana.
2. Create a detailed listing
A detailed listing shows you are a well-informed seller that has likely taken very good care of your car. It leaves buyers confident knowing they are interacting with a legitimate seller that is truthful and transparent. A thorough description ensures you are finding the perfect buyer for your vehicle.
Include all the important details about your car in the description, including the VIN, mileage, make, model, and year of the car, along with any damage or missing parts. Remember, it is illegal to intentionally mislead a buyer as to the condition of your vehicle. You will end up losing money and your reputation as a seller will plummet online.
Your listing should be grammatically correct, free of spelling mistakes, and concise. Car buyers want to know they are interacting with sellers who will not dupe them. The best way to convince buyers of your intentions is to be thoughtful with your listing. Take detailed pictures of your vehicle in a clean, organized state free of personal belongings. Platforms that allow you to take upwards of 20 pictures are very helpful and will further interest in your vehicle.
3. Setting a fair price
Do not list your vehicle at a price that is comically more than its fair market value. Buyers perform due diligence, too – it is likely they know exactly how much the market value of your vehicle is, and they will be offended by offers that are too high. You will be repelling potential buyers, making the selling process longer and more difficult than it needs to be.
At the same time, do not lowball yourself either. Research the Kelley Blue Book market value of your vehicle and list it accordingly. Do not hastily accept offers that are lower than what your vehicle is advertised for. The right buyer is out there and will be willing to purchase your vehicle at or above the market value.
4. Screening potential buyers
Verifying the identity of potential car buyers is the most unskippable step in this safety checklist. You should always be aware of who you are doing business with. Ask for a copy of their driver's license so you have access to a mailing address. This will be helpful if the buyer ends up giving you a false check or tries to scam you in any way.
Performing background checks on potential buyers is another way to safeguard against fraud. This can be an expensive option, so try to collect as much information as you can from your buyers so you can make an informed decision on whether to go through with the sale. Buyers who are eager to buy your car with no inspection, no test drive/visit, and no questions asked should be avoided.
5. Meeting in a safe location
Taking care of the vehicle in a public place is ideal when selling your car online. More often than not you will be selling your car to a stranger. Having witnesses around to see the exchange protects you from experiencing theft or any sort of bodily harm, especially when cash is involved. Try to finalize the sale and transfer of your vehicle in a large open area, like a parking lot. Exchanges that occur at your home should be supervised by a friend or family member for safety.
6. Handling the paperwork
To successfully perform a legal sale, you must be prepared to transfer all necessary documents to your local DMV and to the car buyer. The back of the vehicle title should be signed by the seller before transferring the car to the new owner. A legal car sale requires proof of ownership, which tends to be the vehicle title. Cars that are sold without the title must come with a proof of ownership document, like vehicle registration or a bill of sale.
Always contact the DMV after you sell a vehicle to cancel your registration and to make sure the title has been successfully transferred. Keep copies of any required documents for your records.
7. Protecting your personal information
Offering any information online can make you susceptible to fraud and scams, so be sure to not give out private, personal information when selling your car. Black out any parts of paperwork you are transferring that includes info like your Social Security number or banking information. Do not offer banking information to any individual buyers via instant message, text, or email. Buyers that offer to pay through direct deposit should give you a secure, encrypted digital form to fill out. In general, try to work with buyers who are willing to offer you cash upon vehicle pick-up.
8. Accepting payment
The best payment method for selling your car online is cash. Cash can be accepted at the time of vehicle pick up. Provide a receipt for the buyer and keep one for your records. Digital transfers, like Zelle or Venmo, should be avoided, as it is easy for issues to arise. The payment method should be as clean and simple as possible. Buyers that insist on providing a cashier's check should be accompanied to the bank so you can witness a clear transaction with a bank teller.
Escrow services are a good option for buyers who want to pick up the car and have an inspection performed first. Escrow services allow a business to hold the funds in a secure account, only to be released once the sale and inspection are satisfactory. Check to ensure the escrow service you are working with is accredited and legitimate, as there are many fraudulent sites posing as legit escrow services. Again, the safest and easiest payment method is always cash.
9. Taking care of your car
Before and after the completed sale, double-check the vehicle to see if you have left any personal items behind. Sellers who have agreed to perform repairs to the vehicle should make sure the car is in an acceptable condition before pick-up. Remove all license plates and dispose of them at a recycling facility or by depositing them at your local DMV. Contact the DMV after the sale to verify if the car's title has been transferred to the new owner and to cancel the vehicle registration.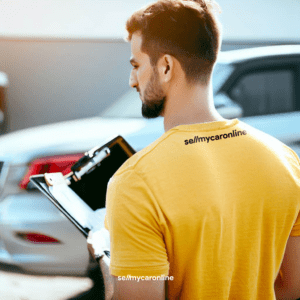 What is the safest way to sell a car online?
Sellmycaronline.com is the safest, most profitable way to sell your vehicle. You'll find all the tools and resources you need to complete a successful sale, and you'll have access to a large pool of buyers across the country who are willing to quickly purchase your vehicle. We'll guide you through the entire process of selling your car online, and you'll have access to detailed articles and blogs that will answer all the questions you have as a seller.
How can I avoid scams when selling my car online?
The best way to avoid scams when selling your car online is to trust your gut and suspicions. Buyers who are hasty, rude, or offering absurd amounts of money for your vehicle are likely scammers. Choose a reputable platform to advertise your vehicle and only work with buyers that you have verified the identity of. Ideally, you should receive a cash payment for your vehicle – beware of buyers who can only offer a money order or check. Do not open email links from senders you do not recognize or trust. Always have valid contact information so you can reach out to your buyer if there are any payment discrepancies.