Have you ever come across an inquiry for your vehicle that seemed too good to be true? In many instances your instincts could be correct – there are hundreds of online scams and fraud tactics that come in the form of potential buyers for your vehicle. Selling your car online can be extremely profitable, but you must protect yourself from any scams during the process. Pinpointing a scam is difficult sometimes, but with this guide, you'll be able to identify and report any fraudulent activity when selling your car online.
Common Online Car Selling Scams
Online car selling scams are pretty common, and they come in various forms. Fraudsters will prey on sellers who are new to online sales or have trouble navigating the internet and use a combination of tactics to steal your money and personal information. The most common online car selling scams are fake listings, phishing scams, and payment scams. All of these methods manipulate a seller's lack of experience with the sales process or advertising platform and convince them to offer access to personal financial information.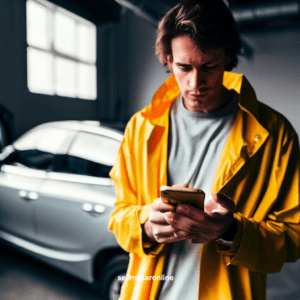 Fake Listings
Fake listings can be easy to spot in many cases. When buying or trading a car, look out for frequent spelling mistakes and little-to-no contact information, like a phone number or mailing address. Cars that are priced unreasonably low are a red flag as well, especially if the listing claims the vehicle has low mileage and no mechanical issues.
Be wary of listings that offer just a few pictures and refuse to send more upon request. This could indicate the car is not actually in the seller's possession and most likely does not exist. Fake listings are harmful to buyers and sellers alike. Sellers will have a hard time finding buyers for their vehicles on websites that are consistently overrun with fake listings. Be sure to advertise your car on a platform that diligently handles and weeds out scams and cases of fraud.
Phishing Scams
Phishing scams are digital attempts to mine and steal personal data from individuals through texts and emails. A link is attached to an email, for example, and when the victim clicks on the link, they accidentally leave their device vulnerable to a virus. The fraudster can gain control of the device, opening whichever apps they please and accessing important data such as credit card numbers and bank login information.
The easiest way to avoid a phishing scam is to never open links that are attached to email senders you do not recognize. Many phishing attempts include obvious spelling mistakes or poor grammar. Others will be less hard to spot and will have many graphic design features you are familiar with from vehicle advertising platforms, like logos. Double-check the email address and make sure any messages you receive come from your intended advertising platform.
Most advertising platforms will allow you to chat with potential car buyers on the site. Refrain from interacting with buyers who ask you to click on a link to accept payment from them.
Payment Scams
Payment scams occur most often when sellers accept strange payment method requests from buyers. Buyers that request to pay with a money order or wire transfer should be avoided. Ideally, your payment method should have an easy-to-track paper trail or be foolproof. Cash is the best option for selling your vehicle in many cases. You can guarantee payment by performing the vehicle exchange in person and requesting cash before the transfer. Buyers who request to pay with a cashier's check should be accompanied to the bank to ensure the transaction is 100% legitimate.
Digital money transfer options, like Zelle, CashApp, or Venmo, are common payment methods when selling a car online, but these are not recommended. Be wary when using these apps, as some buyers may try to scam you and file a dispute with their bank over the transfer. Watch your statements, provide a receipt and a bill of sale for the vehicle, and request a mailing address or copy of a driver's license for security purposes. It is important to have a way of reach the buyer in-person should a payment not process and other methods of contact are unavailable.
How to avoid online selling scams
It can feel a bit scary to sell your car online knowing there are so many ways for you to accidentally fall into a scammer's web. However, there are plenty of things you can do to avoid interacting with fraudsters.
Warnings signs
There are ways to detect scammers during the vehicle selling process. First, you should be cautious of buyers who try to pressure you into a hasty sale. Both parties should go into the sale knowing it is an important decision to make on either side, one which requires some thinking and research. A buyer that gives you an unreasonable amount of time to accept the offer is more than likely trying to dupe you into an unsavory sale.
Second, beware of buyers that do not have much of an online presence. Platforms like Facebook Marketplace, for example, are great online spaces to gauge whether interested buyers are real or not. You can check out the interested party's profile to further verify their identity and location.
Verification
Always properly identify the people you are selling your vehicle to. When selling to auto shops, dealerships, and junkyards, take a look at their online reviews. Reviews of businesses that are poor or that sound fabricated should be avoided. Individual buyers should provide a form of ID when possible, or a mailing address before the vehicle transfer is performed. Sellers can also run a background check on potential buyers to ensure they are not unknowingly participating in any unlawful activity. Buyers who refuse to hand over this information should be avoided.
Payment Methods
When selling your car online, the best and most secure payment method is requesting cash upon vehicle pick up. This way you are sure to have the cash in hand before the vehicle leaves your sight. Payment plans should not be accepted by sellers either – this is an easy way for buyers to offer you a "down payment" for the vehicle, only to ghost you once the additional payments are due.
Payment should be made in full on the day of pick up. Gift cards, wire transfers, and personal checks should never be accepted. It is quite easy to conduct fraudulent activity with these methods, and it will take longer for the seller to be reimbursed when disputing a scam with a little paper trail.
Some buyers will request to use an escrow service to hold their money while they have a personal inspection take place. However, there are fake escrow agencies out there that will scam you and your buyer out of money. Escrow services can be avoided by performing all payments in person. Those who prefer using escrow services should thoroughly research them for legitimacy and check for credentials like BBB accreditation.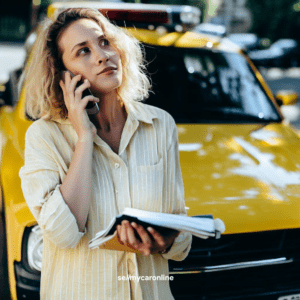 What should I do if I think I've been a victim of an online car-selling scam?
When faced with a possible car-selling scam, the important thing to do is to act quickly. Record all the information you know about the scammer and take screenshots of your interactions with them. Even if the name and information they gave you are fake, the info still qualifies as evidence and could help with an ongoing investigation. Include the platform you talked to the scammer on and what they did to deceive you. Give this information to your bank and file a dispute for any fraudulent charges you notice on your account.
The next step is to contact the police and file a report. This should be done as soon as possible. Trying to pay with a vehicle with a fake check or counterfeit cash is a felonious act that can result in big fines and long prison sentences. Filing a report with the police will also help legitimize your dispute claim with your bank.
How can I report suspicious activity when shopping for cars online?
Any suspicious activity should be promptly reported to the site you are selling your car on. Not only does it protect you from having to interact with the scammer again, but it prevents others from falling for their schemes. Car selling websites have help sections specifically for reporting these concerns, and many sites have technology that sifts through messages, posts, and inquiries to defect fraudulent activity  You can also report all internet-related crime activity to the Internet Crime Complaint Center (IC3). The FBI created this site (ic3.gov) to collect info pertaining to cyber crimes and internet fraud suspicions. Filing a complaint is quick and offers valuable information to this government entity, which can help further protect you during the car selling process.