Selling your car online is the ultimate way to get the most profitable offer for your unwanted vehicle. Conducting the sale of your vehicle through a digital marketplace allows you to maintain control over the selling process and gain access to high-paying buyers across the country. Finding the online marketplace, forum, or website that fits your needs and provides you with the ideal resources for the sale of your vehicle is an essential task.
With the right platform, you can take the stress out of having to plan every part of the car sale from beginning to end. Many platforms offer detailed instructions or templates for selling a vehicle. These platforms tend to have a way for you to chat with potential buyers, giving you all the tools you need to achieve a quick, profitable sale through your smartphone or computer.
Since there are hundreds of online spaces to advertise and sell your vehicle, it's easy to get lost in a sea of vehicle-selling platforms. We've put together a list of the best platforms to sell your car online so you can feel secure and confident during the sales process.
Sell My Car Online
CarGurus
Cars.com
AutoTrader
Carvana
eBay Motors
Edmunds
Vroom
Facebook Marketplace
Craigslist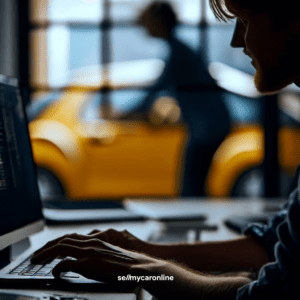 The 10 best places to sell your car online are listed below.
1. Sell My Car Online
For a website that requires no additional fees and provides tons of resources for first-time car sellers, Sell My Car online is the best platform for digital car sales. Sell My Car Online makes listing your vehicle and finding potential buyers easy with a streamlined sales process and an array of selling tips at your arsenal. You are sure to find the absolute top price for your vehicle without having to spend a dime on outreach and advertising.
2. CarGurus
CarGurus is a popular online marketplace thats helps you receive an instant cash offer for your unwanted vehicle. They take care of the pick-up and removal of your vehicle, and you are guaranteed to be paid within two business days by check or direct deposit. CarGurus has amassed a faithful following, with over 2,200 online reviews asserting their experience with the website has been as simple as it is stellar.
With CarGurus, you are able to buy and sell vehicles, while at the same time gathering important info about the auto market, like price trends and test drive reviews.
3. Cars.com
Cars.com is a reliable website where sellers and buyers can connect to exchange a vehicle. This site is offers free listings, which is helpful for those who are selling a car for a few hundred dollars and want to retain every dollar they can from the sale. Coupled with an easy-to-use mobile app and a vast network of live, potential buyers, Cars.com gives sellers access to local buyers and beyond who are willing to purchase and pick up your unwanted vehicle.
The site is a great place to gather news about the auto industry, reviews of cars you're looking to buy, current car and part recalls, and how-to blogs for those who'd like to service their vehicle themselves.
4. Autotrader
Autotrader has the reputation for being one of the oldest and most reliable platforms for selling your car online. This website has everything you need to complete a successful car sale, including a network of eager buyers to choose from, helpful auto articles, and vehicle reviews. Autotrader also provides an affordability calculator for buyers, which is a great way figure out if you are financially apt to purchase the car of your dreams. This gives sellers a peace of mind in many ways, knowing that Autorader has the resources to connect you to well-informed, responsible buyers.
5. Carvana
This online platofrm is a newcomer to the digital marketplace community, offering many enticing perks for potential car buyers. Carvana offers free pick-up for sellers and free delivery to car buyers. Inspections are free through the site as well. Best of all, Carvana offers a 7-day money back guarantee in case you aren't satisfied with your purchase. Sellers are comfortable with this platform due to it's simplified sales process, nationwide reach, and safe, quick compensation via check or direct deposit.
Sellers have the option of letting Carvana pick up the unwanted vehicle or delivering the car to a local Carvana vending machine or hub. Both the drop off and pick up methods are touchless, and if you happen to trade in your vehicle through the website, your new car can be picked up at the same drop-off location as your unwanted car.
6. eBay Motors
Through eBay Motors, you can sell auto parts or vehicles for the best price possible. eBay Motors links car sellers to 7.4 million monthly website visitors, many of whom are willing to compete with other buyers to secure your vehicle. This platform has a detailed seller information page with advice and instructions for selling your car online. eBay Motors lets you list your vehicle in a few minutes, allowing the seller choose the payment and transportation methods that fit their budget and lifestyle. This online marketplace is a great option for those who have inoperable vehicles with high-demand parts.
7. Edmunds
Edmunds is a dependable website that many car buyers throughout the country use. Car sellers may fare well using this website as a resource for selling or trading-in their vehicle, as the website is organized well and is easy to use. This is a highly attractive feature for most car buyers. Selling your car with the help of this platform assures a fast sale and an accurate vehicle appraisal. Just enter the details of your car in the "Appraise" section of the website and you'll have an immediate price quote at your fingertips.
8. Vroom
Enter your vehicle details into the Vroom website and voila –  an unbeatable price quote is at your disposal in under 2 minutes. Vroom's main mission is to take the pressure out of selling your car. Buyers and sellers are encouraged to shop around and find the best match for themselves. Since Vroom is confident that you won't find a better price for your car anywhere else, sellers can receive an appraisal and a no obligation price quote for free. Buyers feel taken care of knowing Vroom has a 7-day return policy, free limited warranty, and multpile vehicle inspections. Sellers can relax and take care of the entire selling process without moving a muscle – Vroom picks up and delivers vehicles from the seller to the buyer for an effortless car sale that requires minimal contact.
9. Facebook Marketplace
Facebook Marketplace is a digital selling and trading platform exclusively for Facebook users. Selling a vehicle through Facebook is as easy as making a sales post for your vehicle and waiting for the queries to roll in. Buyers can contact sellers directly through Facebook Messenger and check out their stats, which includes the location of the seller and reviews of past transactions with other buyers.
This is a great marketplace for people who tend to prefer a more personal sales experience. Buyers and sellers can check out each other's profiles, verifying authenticity and increasing transparency between both parties. Credit card, debit card, and Paypal are all acceptable forms of payment for items listed on Facebook Marketplace. Traditionally, many car sales on the marketplace are paid for with a personal check, cash upon pick up, or digital transfer like Zelle or Venmo.
10. Craigslist
Craigslist is one of the oldest forums for selling unwanted vehicles throughout the US. Craiglist allows you to advertise your vehicle to an audience that is as large as you choose. You can sell your vehicle through your city's local Craiglist auto forum, or you can publish a vehicle advertisement to a larger array of people. Sellers can upload photos and a detailed description of their vehicle, along with price expectations, contact information,  payment methods, and transportation needs.
This is a simple, no-frills method for selling your car online that anybody can profit from. Protect yourself from scams by verifying the identity of potential buyers, requesting cash upon vehicle pick up, and accepting payment via digital transfer or personal check. Monitor your bank statements and keep record of the sale until and after the payment clears.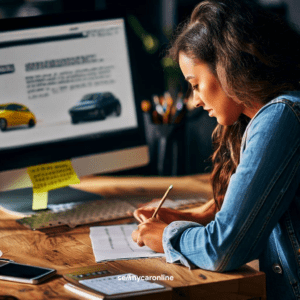 Tips for Using Websites to Sell Your Car
Get multiple offers – Unfortunately, there are some situations where your original offer may fall through. To protect yourself, reach out to multiple interested buyers and gather firm offers for your vehicle. Be sure to contact at least 3-5 buyers. This way you'll have multiple contingencies in case your first and second options bail.
Read reviews of car buyers – Car buyers such as dealerships, auto shops, or salvage yards have websites where you can take a look at reviews of their business. Only work with friendly buyers who have a history of successful transactions. Individual buyers should be able to provide a copy of their license or another form of ID for you to verify.
Be honest about the condition – It is illegal into intentionally mislead a car buyer as to the condition of a vehicle. Do not try to hide any damage, visible or otherwise. You will be faced with a hefty lawsuit and legal fees, and you may be banned from the marketplace where you sold your vehicle. Vehicles in poor condition are still worth a good chunk of change and will attract the right buyer.
Be prepared to negotiate – Accepting the highest price quote does not always mean you'll have the most profitable transaction with the buyer. For example, if your highest offer doesn't come with free vehicle pick-up, you could be looking at hundreds of dollars in transportation and delivery costs, which reduces the final amount you will receive for your vehicle. Consider lower offers that come with free-vehicle pickup or other money saving perks.
Be cautious of scams and frauds – When an offer looks too good to be true, you must consider that is actually is. Do your research and work with buyers who have a public history of buying and selling cars. Make a paper trail with receipts and digital communication, such as texts or emails. Make sure you have viable contact information for each of your buyers, including a mailing address, phone number, or email address. Avoid buyers who insist on paying with wire transfer or money order.
Should I sell my car online?
Yes! You should 100% sell your car online. This process opens you up to way more buyers than with in-person solicitations. Selling your car online allows you to do so from any location, as many online marketplaces offer free pick up and delivery of your vehicle to the buyer. You'll also have the unique opportunity to sell your vehicle in as little as an hour, something that seems downright impossible to do in person. Combined with efficient payment, clear advertising instructions, and multiple competing offers, selling your car online is the most accessible and convenient way to get rid of your unwanted vehicle.
How to Sell a Car Online Fast
Have the paperwork ready – Compile all the documents needed for a legal vehicle sale and have them handy on the day of vehicle transfer. This includes the vehicle title and/or other proof of ownership documents, like the vehicle registration or a bill of sale.
Determine your vehicle's value – Utilize the appraisal tool on the marketplace(s) or sites of your choosing. Performing this research prevents you from accepting lowball offers for your vehicle.
Clean up your vehicle – Make sure the car is in good shape before taking pictures and uploading them to an online marketplace. This immediately raises the value of your vehicle. Clean vehicles in good condition have the ability to spark a healthy bidding war, leading to an amazing price for your car. Remove all personal items, wash the interior and exterior of the vehicle, and identify any aspects of the car that are damaged.
Take some photos of your car – You don't need a professional photographer to get great pics of your vehicle. As long as the photos are clear and relays the condition of the interior and exterior accurately, they are acceptable.
Be honest about the condition to avoid issue – As mentioned before, intentionally misleading car buyers is illegal. Beyond this, once you gain the reputation of being a shady car salesman, you lose access to the very best buyers for your car. Nobody wants to interact with someone who could potentially scam them, so keep the sales process clean. Discuss the condition of the vehicle with the buyer and report any significant damage.
What are the benefits to selling a car online?
Selling a car online is an easy, no-pressure process that can be conducted from your home, beginning to end. Sellers have control over every aspect of the sale, including determining the acceptable sales price, payment method, and transportation. One of the most popular benefits of selling your car online is the added comfort of total transparency – you know exactly what offers are coming in for your vehicle at all times, and you choose the buyers to interact with. There is no middleman, which lowers the chance of miscommunication or unethical sales practices.