Selling your car for parts gives you the opportunity to earn money from your damaged or inoperable vehicle. Cars that are totaled or cost more to repair than they are worth can feel like a burden. Selling your car for parts allows you to make the most out of a car you cannot use, giving you cash for valuable parts like the engine and letting you further your profit by recycling the rest of the vehicle.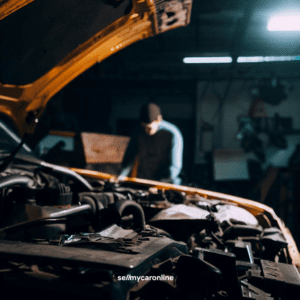 This method for selling your vehicle can be accomplished in 7 steps: preparing the vehicle and parts to be sold, determining the parts to sell, researching the market, advertising the parts, negotiating with buyers, removing and shipping the parts, and disposing of the rest of the vehicle. Though your car may not run, there are individuals and businesses alike who are looking to take car parts off of your hands and give you a hefty check for it too!
7 steps to selling your car for parts
Below are the steps required to sell your car for parts. Pay close attention to each of these steps, as they are crucial to committing a successful and legal sale in any state across the country.
Prepare your car for parting out
Cleaning your vehicle and removing all your personal belongings is the first step to selling your car for parts. Even damaged vehicles should be in the best condition possible before posting pictures and advertising which parts are for sale. A clean vehicle shows that you as a seller care about the goods you are offering. This attracts confident, reliable buyers that are willing to pay top dollar for the parts to your vehicle, as they recognize a clean vehicle to have well-maintained parts.
Draining all fluids from the vehicle is a necessary aspect of this step, as it helps the removal process remain safe. Do not begin removing parts from your vehicle unless you are positive you have a buyer. This saves you time and labor and saves you the headache in case you stumble upon a buyer who'd like to purchase the vehicle intact.
Determine which parts to sell
Once your car is clean and ready to inspect, you can begin deciding which parts to sell from the vehicle. Again, do not remove any parts from the car before doing your research. See which parts are valuable in your area and plan to advertise those parts. Removing unsellable parts of a vehicle only forces you to expel unnecessary energy, and you may make mistakes in the removal process to hastily move it along.
The most profitable parts of a vehicle are usually the catalytic converter, transmission, body panels, and engine. Tires can also be a profitable part of the vehicle to sell. Plan to sell these parts first and then focus on the other parts second.
Research the market
Check out the market and see which car parts in your area go for the most money. When local demand is not present, opt for a wider range of potential buyers by researching the market in other cities or states. The best option is to find the parts you'd like to sell and research the sales price of similar parts online. There are many sites you can check in with to determine the price of your parts, such as eBay Motors or a local salvage yard. Consult with a mechanic or auto professional for the most accurate appraisal of your car parts when possible.
Advertise your parts
Now that you've studied the market and determined where you can get the most for your vehicle, you can begin advertising the car parts. Online marketplaces are a great way to access both local and national buyers, giving you a wide range of offers to choose from. Platforms such as eBay Motors, Craigslist, and Facebook Marketplace are familiar and easy-to-use online marketplaces where you can upload a series of detailed photos of your vehicle. Feel free to advertise the parts for your vehicle on multiple sites. This is a surefire way to conjure multiple reliable offers.
Interested buyers may ask you to remove the part so they can get a better look at the vehicle. This is fine in many cases, especially for popular parts. These buyers are likely to purchase the part from you and are worth the labor in removing and photographing the part. You should refrain from prematurely removing parts before any interest in them has been communicated to you.
Negotiate with buyers
One commonly ignored step in the process of selling your car for parts is negotiating with buyers.
You'll likely receive a few offers for the same part, especially if you have advertised the part on multiple platforms. Use this as an opportunity to leverage offers against each other. Respectfully relay a counteroffer to your buyers and let them know when a competing offer is being considered. This leaves you open to the best and highest price for each of your parts.
Do not offend your potential buyers with outlandish counteroffers, especially if you have no other bids to back them up. You will likely be left in the dust by this buyer, and you'll be seen as difficult to work with in the future.
Remove and ship the parts
After a buyer is in place, remove the necessary parts of the vehicle and prepare them to be shipped. Let the buyer know beforehand if you've added the cost of shipping to the advertised price of the part or if you require them to pay for shipping. Some buyers would prefer to travel to you instead for the parts so they can avoid shipping costs.
Removing the parts can be difficult for those who have never done it before. Those who aren't confident in their removal skills should consult a mechanic or auto professional for assistance.
Parts that are being shipped should be cleaned and contained in a box with some type of cushioning to prevent damage, like packing peanuts or bubble wrap. Double check the name and address of your buyer before sending the parts off.
Dispose of the rest of the car
With all the valuable parts of the car sold, you can locate a recycling facility to sell the rest of your vehicle to. Scrap metal prices are booming across the country, and you can receive around $250 per ton of scrap metal by selling the rest of the vehicle to a recycling plant or junkyard. Many recycling facilities are willing to pick up the skeleton of your car for free and give you cash upon removal. Choosing these disposal options lowers your chance of adversely impacting the environment by leaving rusted scrap metal laying out in the open. You'll also enjoy the benefit of knowing you received the ultimate price for every aspect of your unwanted or inoperable vehicle.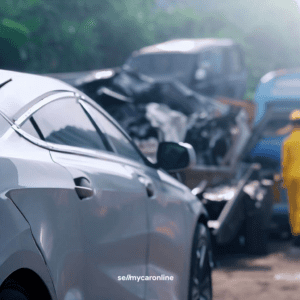 Which car parts sells for the most money
Large, essential car parts, such as the engine, garner good money, especially if the parts are in working condition. Many individuals who are stuck with a poor engine are looking at nearly $5,000 in repair costs, and nearly $7,000 for a full engine replacement. Individuals and auto shops alike will vie for parts like your engine since they are in such high demand and cost so much to fix and replace. Other parts that will attract high-paying offers are the:
Transmission
Wheels and tires
Headlights, light bulbs, and other lighting products
A/C system
Should I sell parts individually or as a bundle?
In-demand car parts, like the engine and transmission, will perform well when sold individually. Since they go for so much on the used parts market and are commonly needed for repairs and replacements, you will not have a hard time finding an interested buyer. Bundling multiple high-priced items may lead you to lose money rather than earn more.
This doesn't mean that bundling car parts is a bad idea as a whole. Parts that are harder to get rid of can be sold as a bundle, making it easier to sell underperforming parts and leaving you with less scrap metal to recycle. Consider bundling items that aren't essential, like the stereo system or floor mats, to prevent yourself from leaving money on the table and encouraging buyers to get the most for their dollar.