Sellers looking to offload an old vehicle may be determining whether they opt for an online car buyer or a local junkyard. Selling a car online allows sellers the most flexibility and freedom. They have access to a wider range of potential buyers, as opposed to a local junkyard who may offer a lower price based on the weight of the car. Selling a car online via platforms such as Sell My Car Online is efficient, safe, and advantageous for securing the best offer.  
Local junkyards may seem like the most convenient option because, after all, they're local. Many junkyards don't provide free pick up and removal services, which leaves sellers having to foot the bill themselves if the car doesn't drive. Junkyards are a tried and true method for getting rid of a junk car but many sellers are embracing the online avenue to secure a higher cash offer for their old ride.
Sell Your Car to a Junkyard
Advantages of Selling a Car at a Local Junkyard
Selling a car to a local junkyard can be advantageous due to its proximity to the seller. Many cities and towns have a junkyard within a reasonable radius, which allows sellers to discuss the sale of the vehicle in person. These sales can often be completed within a day, as long as the seller is willing to accept the offer put forth by the junkyard. Junkyards purchases vehicles as-is, regardless of their condition or make and model. Sellers will have a guaranteed sale, which can be considered an advantage over private sales that may take more upfront work. Junkyards recycle cars, which reduces the environmental impact of the car industry as a whole. The metal can be reused and repurposed once a vehicle is scrapped.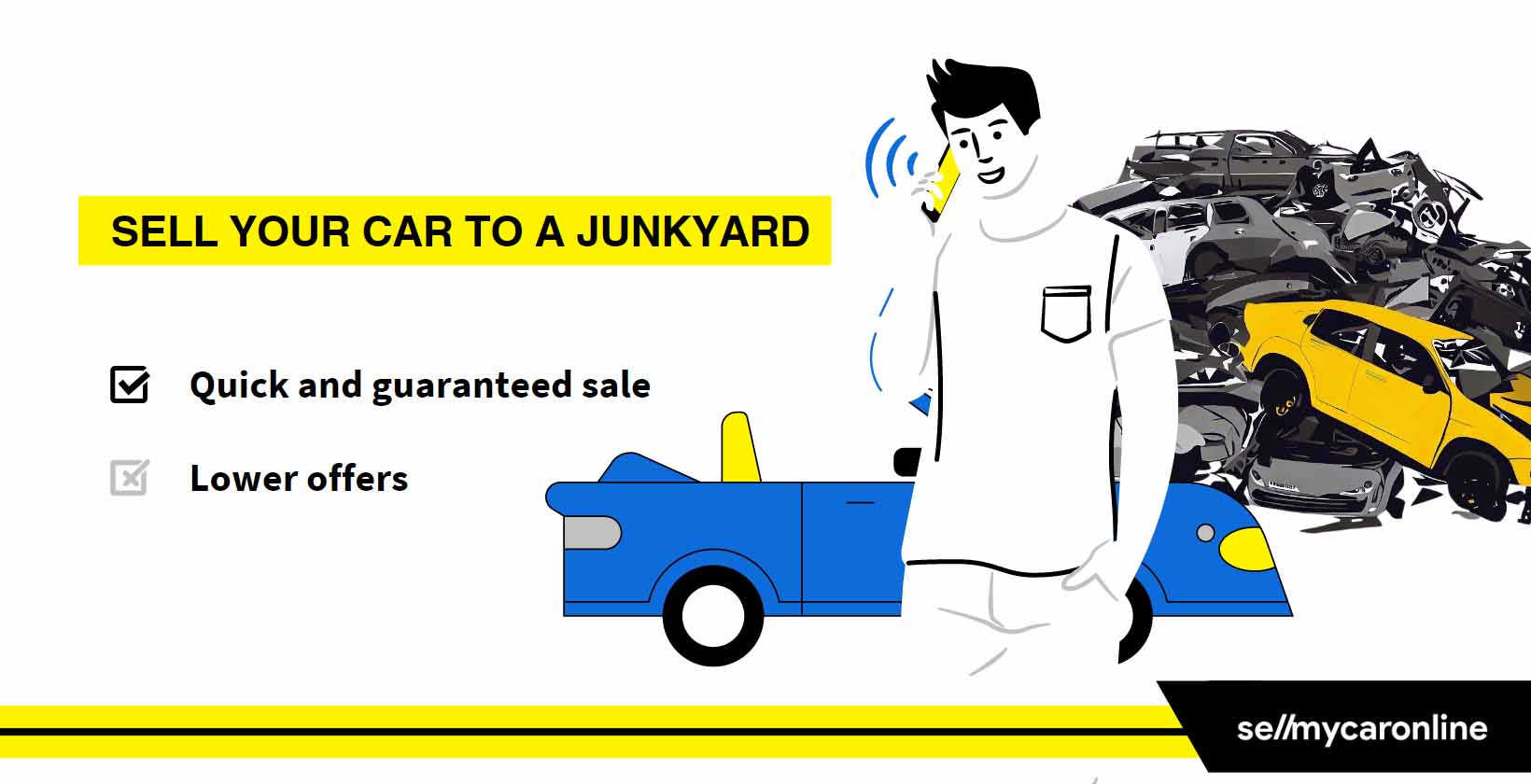 Disadvantages of Selling a Car at a Local Junkyard
Junkyards are often concerned with the weight of a vehicle, as this determines the scrap metal value. Junkyards salvages any valuable parts to resell, which boosts their profit margin. Offers put forth by junkyards are going to be in line with the current market for scrap metal, while offers from online car buyers may take into consideration the make, model, year, and overall condition of the vehicle. This benefits the seller and results in a higher offer price that many junkyards won't be able to match. When selling a newer vehicle in decent condition, sellers shouldn't expect to get the best price at their local junkyard.
Factors to Consider When Selling a Car at a Local Junkyard
A few things to keep in mind when selling to a local junkyard are vehicle make, model, and condition, as well as the market value of similar vehicles for comparison. Newer cars with little to no damage naturally command a higher price via a private sale or to an online car buyer. Junkyards aren't the best avenue for selling cars that still have life in them. A junkyard is often going to salvage the vehicle for parts before scrapping the frame for metal. Vehicles that are totaled, non running, or decades old may be prime candidates for the junkyard as the offer will be in line with their current value. 
Sell Your Car Online
Advantages of Selling a Car Online
Selling a car online has multiple advantages, namely the convenience of receiving an appraisal and locating a buyer. Sellers have the opportunity to save time by avoiding time-consuming dealership visits or meeting with individual buyers from Facebook or Craigslist. Sell My Car Online completes every step of the process online, aside from pickup and removal. Sellers reaches more buyers, which boosts the value of a vehicle. This is especially effective for makes and models that are more uncommon and even for those that aren't in high demand within the local market.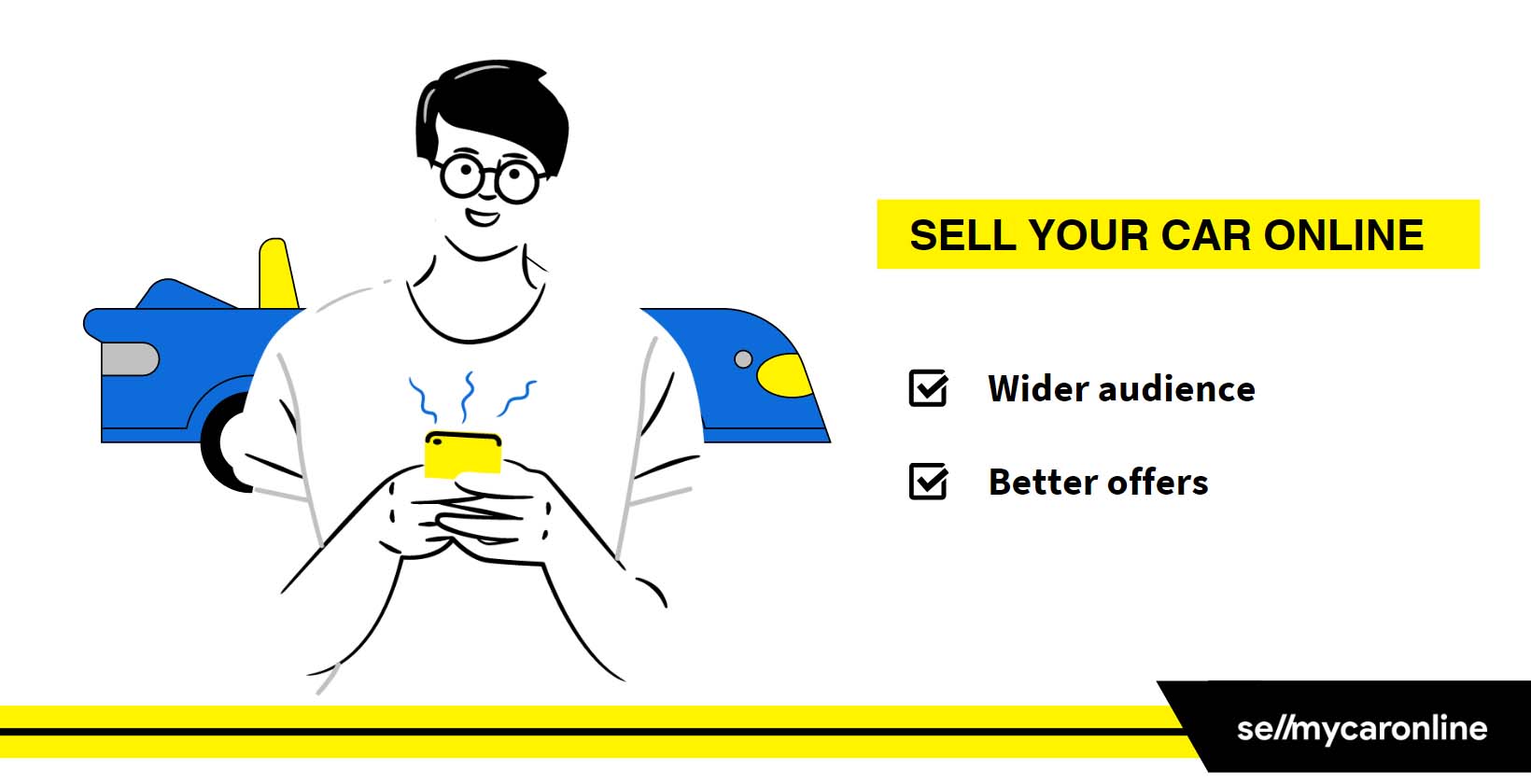 Disadvantages of Selling a Car Online
Sellers who opt to go the online route should be wary of scams. This is especially prevalent on platforms such as Craigslist and Facebook. Staying vigilant is key when using these online buying and selling avenues, especially when it comes to fraudulent payment schemes. Ongoing negotiations and lowball offers can be an issue when selling anything online. Some platforms even charge a fee for a vehicle to be listed for sale. Sell My Car Online doesn't charge sellers a fee and ensures that the buyer is serious and that payment is promptly made at the time of pickup.
Factors to Consider When Selling a Car Online
Selling a car online can be a rewarding process when it's through a reputable company or platform. Sell My Car Online places professionalism at the forefront, ensuring a painless process for sellers. Security and privacy are taken seriously, enabling sellers to rest assured that their personal information is protected and that the sale is managed efficiently. Selling a car online doesn't have to be a breeding ground for scams and headaches. Sell My Car Online provides a fair and upfront offer, which minimizes time spent negotiating and fielding lowball offers from unserious buyers. 
A Comparison of Selling a Car to a Local Junkyard Versus Selling a Car Online
Speed of Sale
Selling your car online can be a faster process compared to junkyards. Online platforms typically have a larger audience and, depending on the condition and desirability of your car, you may receive multiple offers within a short time frame. However, if your vehicle is not in desirable shape or if you have limited online selling abilities, then junkyards may offer a quicker sale.
On the other hand, junkyards might complete transactions swiftly, especially if your car fits their criteria. They usually assess vehicles quickly and make an offer almost immediately. Bear in mind that this option may take time if you have to contact multiple junkyards for the best offer.
Ease of Transaction
Selling a car online generally involves more effort than dealing with a junkyard. You need to create a listing, take appealing photos, write a detailed description, and actively communicate with potential buyers. Plus, there may be haggling, and you will have to manage the viewings, test drives and negotiations.
Conversely, selling to a junkyard is a straightforward process. You simply contact the junkyard and provide necessary information like your car's make, model, and condition. They assess your vehicle and make an offer with minimal negotiations, which makes the transaction smoother.
Potential Profit
When selling your car online, the potential profit could be higher as you have more control over your asking price and negotiation with buyers. You decide when to accept an offer, allowing for competition among interested buyers and possibly driving up the price.
In contrast, junkyards have a set buying criteria that typically considers only the scrap metal value and recyclable parts value – it doesn't usually pay attention to factors like recent maintenance, visual condition or aftermarket upgrades. As a result, you might not get as much money as you would by selling your car online.
Why Selling a Car Online is the Superior Option
Online car buyers such as Sell My Car Online provide vehicle owners with a quick, painless, and convenient method for offloading their cars. An offer is provided within minutes. Instead of going back and forth with multiple buyers, the seller begins the process of scheduling with the buyer and pickup service. The entire sale can be completed within a couple of days, which frees up garage space and puts cash in the seller's pocket. The convenience and flexibility of selling a car online can't be beaten.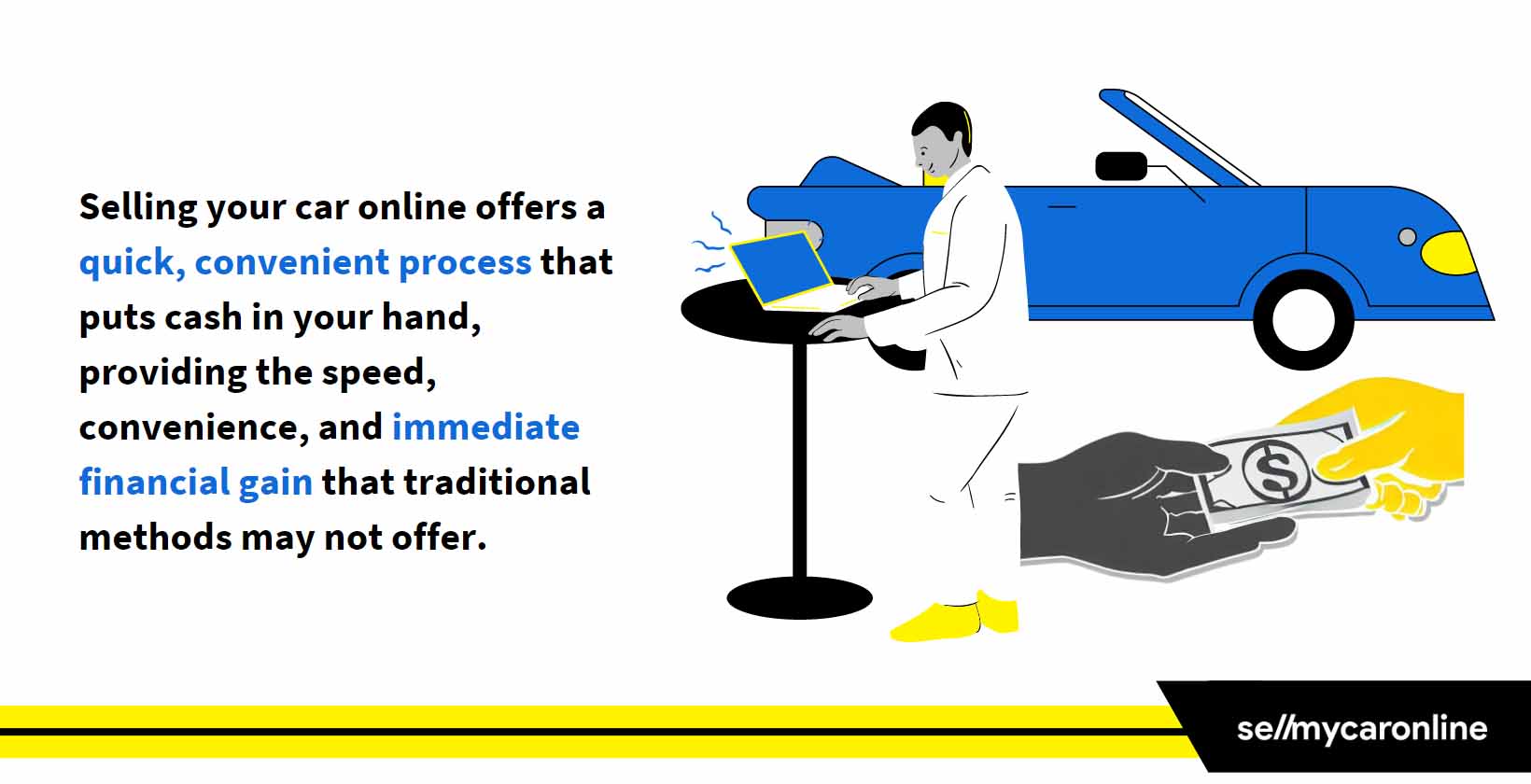 Sell My Car Online is the Express Lane to Sell Any Car Online
Sell My Car Online uses proprietary auction technology to get sellers the best possible price for their vehicles. By working with a large group of potential buyers, Sell My Car Online can get vehicles sold quickly and efficiently. Once an offer has been accepted, the details will be automatically sent to the buyer. A pickup time can be scheduled and payment is secured via cash or check. Sell My Car Online takes into consideration a variety of factors to make a fair offer, including the current market conditions and vehicle details such as make, model, year, damage, and vehicle history.   
Frequently Asked Questions
What are the fees for selling a car online compared to a local junkyard? 
Sellers should beware of any online car buyer or local junkyard attempting to charge additional fees. Online buyers puts the pickup and tow costs into the final offer. No extra fee should be charged on top of the appraised offer. Local junkyards may or may not tow the vehicle before buying it, so this process may be left independently to the seller. Sell My Car Online doesn't charge sellers a fee. If a vehicle has been inaccurately described, the offer price is prone to change on the day of pickup if damage is present that was not mentioned in the form. 
What is the process of selling a car online compared to a local junkyard?
Online car sales often value the overall condition of the vehicle more than the local junkyard. Junkyards are more concerned with the scrap metal weight and any valuable salvageable parts that can be resold. Sell My Car Online buys cars regardless of year or condition. Offers are determined based on the current market and factors such as the vehicle's year, make, model, condition, mileage, and history. Selling a car online is as easy as answering a few basic questions, receiving a quote, accepting the offer, and scheduling for removal and payment. Some junkyards don't have an online presence, requiring the seller to bring the vehicle to the location and discuss payment in person.
How quickly can I sell a car online compared to a local junkyard?
Selling a car online and to a local junkyard happens very quickly. Sell My Car Online provides quick online quotes while providing sellers with the opportunity of 7 days or 100 miles to accept the offer or allow it to expire. Once the offer is accepted, the buyer and seller plans for the pickup and removal arrangements. Local junkyards buys a vehicle on the spot once an offer is accepted. 
How do I prepare to sell my car online compared to a local junkyard?
The process for preparing a car for sale to an online buyer or a local junkyard is similar. Sellers will want to have a valid ID, registration, and valid title in hand before approaching a buyer. Regulations and laws vary by state and locale. If the vehicle has a lien against it, Sell My Car Online's buyers works with the financial team to pay off the lien. Local junkyards vary in their process of buying a vehicle, with some having an online estimate tool and others requiring the vehicle to be brought for an in-person inspection before a quote is provided. 
What are the most common places to sell my car online?
Household names such as Facebook, Craigslist, and eBay have been used to secure online buyers for years. Communications generally begin online, before the buyer and seller set up a physical meeting to inspect and test drive the car. Other online avenues for selling a vehicle include Peddle, Cash for Cars, Autotrader, and The Clunker Junker. Sell My Car Online was launched with over a decade of experience in the car buying and selling arena. This safe and reliable method for selling a vehicle provides car owners with interested buyers who want to pay cash for their vehicle.