Selling a car can be a long, headache-worthy process if you do not have the best resources. Before selling your car, you should consider which process allows you the achieve the quickest sale of your unwanted vehicle for the best possible price. The easiest and most profitable option for getting rid of your unwanted vehicle is to sell your car online. Those who haven't experienced selling their car online may be concerned about the pros and cons of this method. As a whole, selling your car online comes with a lot more benefits than any other sales method. Below you'll find the top 10 advantages of selling your car online, along with helpful tips to make the selling process smooth and simple.
1. Simplified Process
Selling your car online gives you the opportunity to connect with local car buyers, obtain a price quote, and schedule a time for a vehicle transfer without having to leave your home. With many online marketplaces, there are detailed instructions for selling your car through their platform. This takes the guesswork out of selling your car that in-person methods require – it leaves less room for mistakes and more room for you to garner a good profit from your car. Plenty of marketplaces go the extra mile and offer listing templates or pre-written instructions, allowing you to seamlessly connect with car buyers.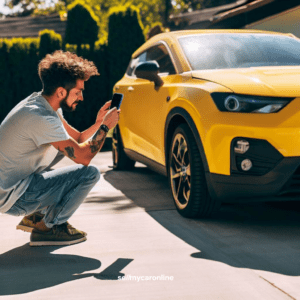 2. Convenient Process
By selling your car online, you remove the nuisance of having to rely on any sort of middleman for the sale to operate smoothly. You can take photos of your vehicle, upload them, and tailor the descriptions of your vehicle personally. Buyers will also be able to connect with you directly, eliminating the chance of miscommunication due to a third party. You can rest assured you are receiving the best, most accurate price quotes from the buyers of your choosing, reducing the chance of being dissatisfied or misled during the sale. Buyers and sellers communicating directly through text or email also lends an extra dose of security – if anything goes wrong, you have physical proof of your conversations with potential buyers.
3. Expedited Process
Traveling from location to location is a costly, time-consuming endeavor, especially if you are using the car you intend to sell to make these trips. You are adding extra mileage to the car, which affects the information you are giving to potential buyers. More than that, you are spending extra money on gas to transport this car to potential buyers for viewing, and it can be a huge waste if your buyers end up being uninterested after seeing the vehicle.
Selling your car online shortens this process. In one sitting, you are able to take pictures of your vehicle, upload the photos and a detailed car description, connect with buyers, and receive immediate price quotes. You'll save hours of your day selling your car online – the car doesn't have to move an inch, and neither do you! All negotiations can be performed via email or over the phone, giving you the chance to sell your vehicle in a matter of hours.
4. Get Offer From Multiple Buyers
Working with multiple buyers allows you to leverage quotes against each other and provides a sense of security when selling your car online. Multiple reliable offers create a safety net for the seller in the event that the original buyer backs out of the sale. Vehicles in high demand across the country will attract eager buyers who are willing to pay top dollar for your car. By selling your car online, you have the advantage of quickly relaying competing offers to potential buyers, yielding a faster, more profitable sale.
5. Wider Reach
Soliciting offers for your vehicle online gives you a larger pool of potential buyers to work with. With the help of online marketplaces, you can reach buyers all over the country, giving you access to an array of top offers to choose from. Those who live in a small town or community may find it hard to get a good price for their unwanted vehicle. Selling your car online vastly expands your reach, linking you with buyers that are willing to offer competitive rates for your vehicle. Multiple reliable act as dependable contingencies in case your original buyer backs out.
6. Better Price
Having a wide selection of potential buyers is a sure way to get your unwanted vehicle sold for the best price. Selling your car online makes receiving and leveraging offers more accessible. You can respond to each query personally, leaving you with the comfort of knowing you have total control over the finer details of the sale.
7. Time Savings
The best part about selling your car online is how much time you'll have left over to enjoy your day. Traditional methods, like visiting a dealership or an auto shop for an appraisal and price quote, can become an all-day excursion. Visiting multiple buyers in one day can easily eat away at your wallet with the costs of travel combined with lowball local offers. Selling your car online connects you to buyers in a fraction of the time, with just a few clicks. You can spend less time gathering offers for your vehicle and more time enjoying the profits from your quick online car sale.
8. No Pressure
Negotiating the sale of your vehicle in person can be a highly stressful situation. It is easy to feel cornered into accepting an unsatisfactory offer for your car in person, especially if you have spent the majority of the day traveling to different potential buyers. Selling your car online relieves sellers from the threat of a hasty sale. Sellers can take as long as they need to review incoming offers, reducing the chance of rushed or ill-informed car sales.
9. Control
Conducting your car sale online allows you to have complete oversight of the selling process from beginning to end. By seeking offers through multiple online platforms, you are in charge of the conditions of the sale. No more cycling through in-person buyers that won't meet your standards – you can choose your ideal payment and delivery method right off the bat, making it possible to interact only with buyers who are willing to adhere to your terms.
10. Transparency
It is difficult to gauge the reputability of local car buyers in-person. Selling your car online lends transparency to both the buyer and the seller. The seller can look at ratings and reviews of potential car buyers to gain peace of mind and confidence in the sale. It is important to choose a reliable buyer that will not deceive you or back out of the sale. When possible, choose experienced car buyers that have a reputation for clean and efficient exchanges. Online car sales also give the buyer and seller the chance to communicate directly, which leads to an accurate, safe, and successful transfer of the vehicle.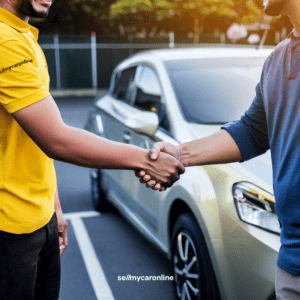 Should I compare online quotes to in-person quotes?
There is no real upside to gathering both in-person and online quotes. Plenty of the quotes you'll receive during your in-person queries will either match online quotes or add up to much less than you were expecting. Plus, with the costs of travel and the time wasted from lowball offers, you'll effectively be losing money from the sale of your vehicle. The best option is to sell your car online via a digital marketplace, where you have complete control over the sales price, payment method, and transportation of your unwanted vehicle.
When should I request payment for my vehicle?
Many vehicle sellers request payment for their vehicle on the day of pick-up. Vehicles that are being delivered and transferred without the seller present should be paid for prior to delivery. As the seller, you are in charge of the acceptable form of payment. For vehicles that are paid for with a check or digital transfer, keep an eye on your bank statement to ensure the transaction was completed. Provide a receive or bill of sale to the car buyer during the transfer.
Do I have to deliver the vehicle to the car buyer when selling my car online?
Sellers are not required to provide transportation of the vehicle to the car buyer during an online sale. A seller has the right to choose a car buyer that is willing to accommodate their transportation needs. When possible, choose a car buyer that is willing to pick up your vehicle for free, since delivery costs can rapidly chip away at your profit.